Letter 1: Origins and Ideas
The original idea for Uncaging One Thousand Cranes came as I was witnessing children being caged in concentration camps and feeling completely helpless to express my despair. At the time, the reported number of children was 1,000.
One Thousand kids in cages.
I had only one thought in my mind, a wish (which according to Japanese tradition would be granted if I folded One Thousand origami cranes) that the cages would burst and the children go free.
That image would be both my expression of despair and my symbol of hope fighting it. One Thousand caged cranes being released; a wish borne upon one thousand pairs of wings beating against the cage of despair.
So I decided to build a cage, a 7'x7'x7' PVC frame symbolizing the cages in Trump's concentration camps, so I can fill it with 1,000 origami cranes hanging on wires. Each of the cranes folded being a prayer for a child in the camps.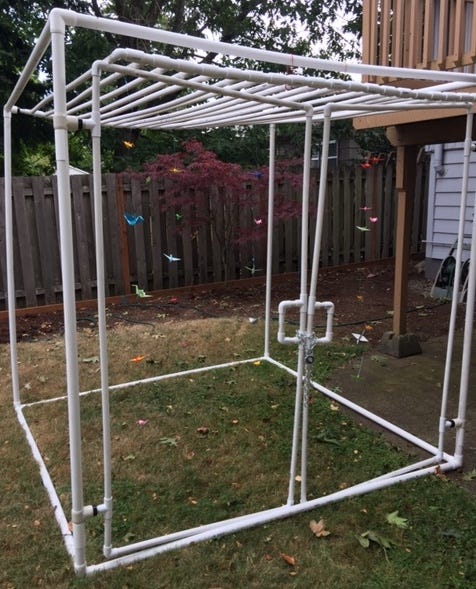 (Here's the cage, with a few sample cranes inside for reference.)
Then, when I've suspended one thousand cranes, my wish will come true and I will open the cage and they will all go free.
So that this project is not merely wishful thinking, I'm making it into a fold-a-thon, where I raise money for RAICES Texas, an organization that helps separated families, unaccompanied children, and other asylum seekers. Sponsor me for, say, a penny per crane and that would result in a $10 donation to RAICES Texas.
Stay tuned for more progress on the project…